Medal ceremony trumped by marriage proposal at Pacific Games
A Pacific Games medal ceremony has been trumped by a marriage proposal near the golden shores of a Samoan beach.
Captain of the Cook Islands women's va'a team Emilene Taulu was taken by surprise when her partner remained kneeling after a group haka at the medal ceremony for women's V6 - 24km marathon event.
Taulu had just received her bronze medal with team mates for the gruelling event at Samoa 2019 XVI Pacific Games.
Her partner and Cook Island's men's coach, Tupuga Amo, had chosen the public venue for the sporting event to pop the question.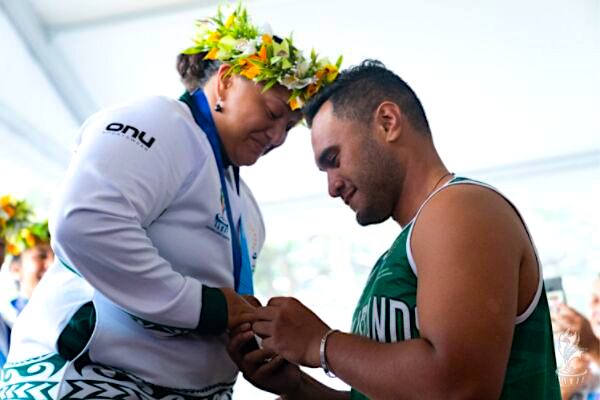 Emilene Taulu and Tupuga Amo chose a very public spot to become engaged. (Image: Alvaro Hoyos/Pacific Games News Service)
"It's lovely, I've been waiting for ages and now I've got a bronze medal and a ring," said Taulu after saying yes to Amo.
She said she had an inkling that a proposal might be on the cards, but was still taken by surprise.
"Well, he kept asking me about the size of my rings, so I thought he probably would [propose] when we were on holidays in two weeks."
As officials, ceremony participants, fellow athletes, volunteers and others milled about, Emily laughed: "I thought it would be quieter, and definitely not in front of everyone."