Locals training up as umpires for Pacific Games Lawn Bowls
The umpires for Lawn Bowls at the Samoa 2019 XVI Pacific Games will mainly be from the local community after a two day training workshop in Apia last weekend.
"I've achieved what I came to do in Samoa," says Helen Stallard, Administration and Events Manager from Bowls New Zealand who ran the workshop for 23 locals.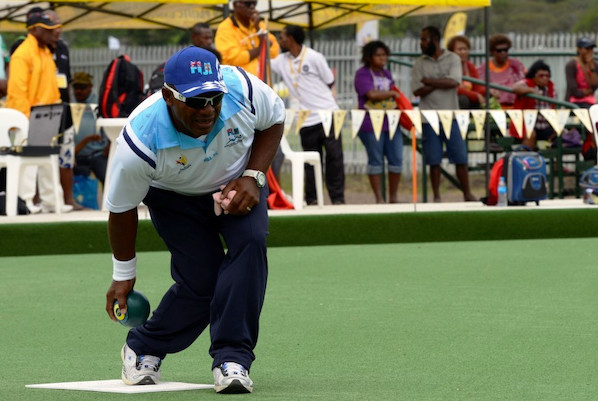 Fijian bowler, Semesa Naiseruvati won gold in the Men's Singles at the Pacific Games in Papua New Guinea in 2015
"This is your Games and we want the umpires to be from your country. We want to leave behind a legacy.
"While there are two international umpires coming from New Zealand the rest of the umpires and markers should be from Samoa."
Ten more weeks of training for the umpires will be overseen by Rudy Meredith, President of the Samoa Bowling Association together with the Vice-President, Fiu Peni Asi.
"The idea was to train them up and give them all the material that they will need to carry on with their training," says Stallard. "The umpires are well underway."
Read more
She'll return to Samoa before the Games to examine the umpires.
"We've done measuring and marking and everyone did very well," she says. "I'm confident when I come back we will be accrediting the six umpires needed."
The workshop was held at the Lawn Bowls Greens at the Faleata Sports Complex, the venue that will host the sport from 8-13 July.
The Greens were constructed for the 2007 Pacific Games, the last time Samoa was host nation. The venue has four greens and grandstand seating for 500 spectators.
It will be the sixth time Lawn Bowls will be contested at the Pacific Games and seven countries will be in the mix for eight events, four for men and four for women.
Samoa will compete with Cook Islands, Fiji, Niue, Norfolk Island, Papua New Guinea and Tonga for the medals.