Kiwi archers win teams gold and a place at Tokyo Olympics
New Zealand's female star archer Olivia Hodgson shot herself a spot at the 2020 Olympics on day three of the Samoa 2019 XVI Pacific Games.
It was nerve wracking as New Zealand and Australia, the two top teams in Oceania, went head to head to win the qualifying spot for the mixed team in Tokyo.
Olivia Hodgson and Adam Kaluzny represented New Zealand against Australia and the Kiwis came out the winners.
"I'm so excited, it was such a good match. Australia shot so well but we managed to guts it out at the end. Adam shot so well, it was real cool," said Hodgson.
Qualifying for the Tokyo Olympics has been a humbling experience for her and the key to the fruits of labour today was 'hard work.'
"Adam has too. Hard work and team work it all adds up, all the hours spent shooting alone or training with a teammate and putting in a hard slog definitely pays off," she said.
The team in the black and white jerseys went wild when the winner of the competition was announced.
"The atmosphere was awesome, the team was so supportive and having them behind me made such a difference when I stepped onto the line."
Read more: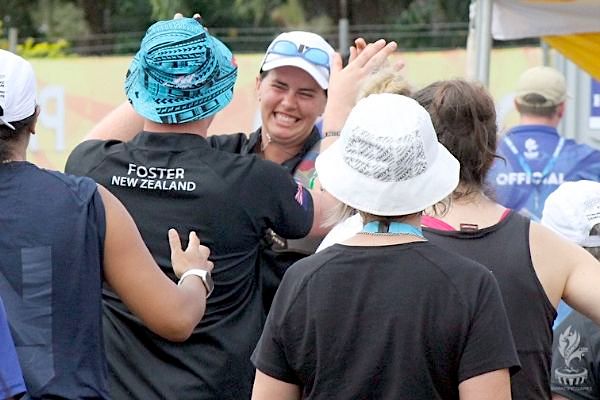 Celebrations begin as the Kiwi's secure a place in Tokyo in 2020 (Credit: Pacific Games News Service)
She acknowledged the people who have supported her.
"It is so cool to have a family, the New Zealand team. Thanks to my teammates and to my coach, also my family even though they couldn't be here. Thanks to Samoa for putting on an awesome event, it has been such an honour."
Life has worked in a mysterious way for her. Four years ago she became an archery coach. Little did she know it was her gateway to becoming an archery enthusiast and competitor.
"I did archery for a couple of years when I was a little kid and went off to play soccer for seven years then come back to archery four years ago."
Hodgson continued: "When my now-coach, Petra, gave me a call and asked if I wanted to do some coaching and I said yes, but I won't shoot. A couple of months later then I started shooting."
The passionate archer just arrived to Samoa earlier today from Berlin after competing in the World Cup.
"I just love the sport. I love the focus that you need to have and the final details that makes such a difference. In terms on how it relates to my life, it has taught me just to be calm and just have one goal and go for it."