Kiribati team punching above their weight in 2019
Kiribati's Tevii Steven will compete in the semi-finals at the Boxing on Savai'i, this afternoon.
"We are so proud of him and, hopefully, he'll qualify for the finals," said Kiribati Chef De Mission, Tekabara Raurenti.
Steven will compete against Jone Koroilagilagi Davule from Fiji in the 64kg light Welterweight later today.
Coming to Samoa for the 2019 Pacific Games has been a highlight for the team from Kiribati. The athletes came hungry for medals and their Chef De Mission is very proud of them.
"There has been an improvement because at the Papua New Guinea Pacific Games in 2015 we only received three medals, one gold medal and two bronze," he continued. "This year there's been a shift."
He continued: "We have six gold medals, nine silver and six bronze. We're still hoping to get more medals from boxing and powerlifting."
Read more: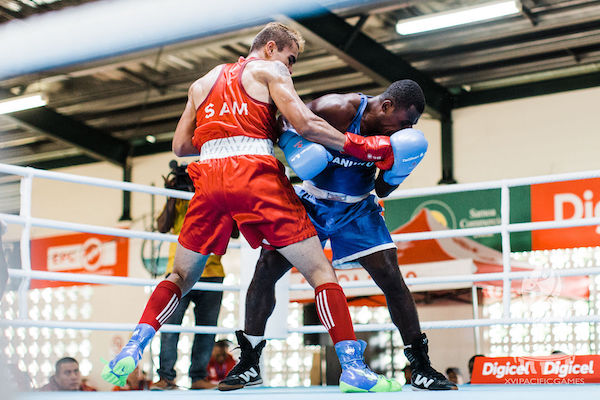 The action continues at the Boxing (Trina Edwards/Pacific Games News)
The achievements of the athletes from Kiribati is a stepping stone to greater things for them.
"The results that we have at the moment have made our people back home very happy and proud. It was a tough fight and that is what boxing is all about. We lose, then we come back stronger next time."
Kiribati has 76 athletes competing in ten sports. They are hopeful they will be able to participate in all sports at the next Pacific Games in the Solomon Islands in 2023.
"Athletes wanted to represent Kiribati and they all had to fight for their place to compete in the Pacific Games," he said. "Samoa has contributed to that because the athletes really wanted to come and see this island."