International athletes compete in National Triathlon Champs
International triathletes will be joining Samoans in the National Triathlon Championship – which doubles as a test event for the Samoa 2019 XVI Pacific Games - in Apia this weekend.
Seven athletes from Fiji, American Samoa and Tonga will compete against four Samoan athletes, who are aiming to be included in Team Samoa, said Afoa Daniel Afoa, Triathlon Sports Competition Manager.
"They are excited to utilise the test event as their opportunity to get some advantage of racing on the actual course for July. Additionally, the athletes will be joined by five local teams made up from FESA, Police and Samoa Events to ensure a competitive and fun day will be had by all."
The test event on 18 May will test everything from timing processes and road closures through to transition zones and refreshments.
Read more: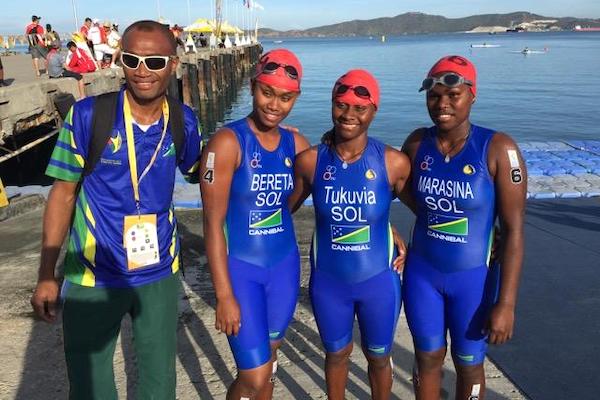 For the Games, nine countries have indicated they will compete including the Solomon Islands.
Afoa highlighted the importance of the test event for all the triathletes.
"The test event date was specifically chosen and designed for the athletes to focus on as a milestone event to test where they are at performance-wise. This gives us a full two months to tweak and work on areas needing attention to ensure we at our optimum peak by July 19-20."
For the Games, nine countries have indicated they will compete. The triathlon will be run along the beach road towards the Mulinu'u Peninsula, taking in sites such as the Samoa Parliament building and the Ministry of Justice and Court House. Spectators and supporters will be able to view the race anywhere along the route.
With 52 days before the Games begin, the triathletes are excited to compete on home ground, Afoa said.
"Triathlon is unique in that it is three completely separate sports combined to make one. Most triathletes come from an assortment of sporting backgrounds; they are not necessarily 100% comfortable with all three disciplines."
Afoa added: "Some are better swimmers than others; some may prefer the bike over the run and vice versa.
"The combination of the three is a real challenge for individuals, completing a triathlon is a fantastic achievement for anyone, let alone representing your country in an event like the Pacific Games.
"The Samoa Triathlon family are fully supportive of our athletes. Everyone, especially the athletes are excited, focused and honored to be given the chance to fly the Samoan flag loud and proud come July."