Individual events begin in style at badminton
Following the dramatic conclusion to the Mixed Team tournament, the players returned to the Multi Sports Centre in Apia this morning as the individual event got under way.
MIXED DOUBLES
Starting with the Mixed Doubles round of 32, there were plenty of games to get through on day one.
Tonga's Renaey Naaniumotu and Lata Isitolo opened proceedings on court one to see off the challenge of home duo Kennedy Simanu and Peta Teo 21-13 21-9.
Samoa's Hilton Soo and Folole Ioane put on a great fight against Tahiti's Manuarii Ly and Melissa Mi You, taking the more experienced pair to a third game. However, the Tahitian's responded with a tighter performance to win in three games 21-16 21-23 21-10.
Tahiti and New Caledonia saw several other pairs make it through to the next round, including second seed Johanna Kou (who won silver in 2011), with her new partner Morgan Paitio.
Meanwhile, Burty Molia and Karyn Gibson were Fiji's only pair to make it through to tomorrow's Quarter-Finals. Molia won bronze in the 2011 Pacific Games with Andra Whiteside. This year, he will be looking to go one better with Andra's sister if they can get past New Caledonia's third seeds, Ronan Ho-Yagues and Dgeniva Matauli tomorrow.
The biggest shock came with the exit of fourth seed Tongan's, Lauti Naaniumotu and Litea Tatafu. The pair lost to Tahitian duo Remi Rossi and Coralie Bouttin 21-19 21-12.
Read more: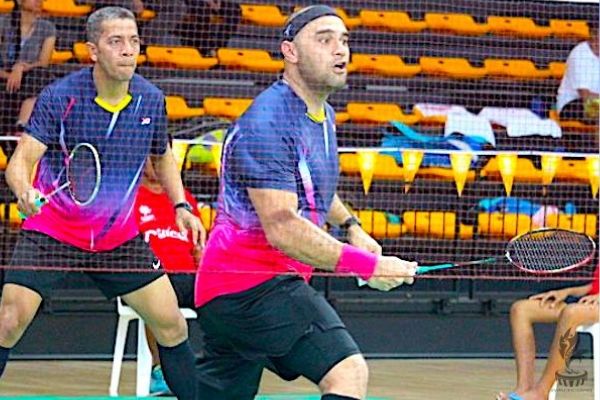 Exciting action at the Badminton (Pacific Games News)
MEN'S SINGLES
Team Samoa lit up the hall in the opening round as Kennedy Simanu got the home crowd riled as he battled against Jordan Pangilinan. The second end went to setting and to the audience's delight, Simanu won 21-13 24-22. However, Simanu soon met his match as he was knocked out in the second round by Tonga's Renaey Naaniumotu 21-17 21-13.
Similarly, home player Joatel Ng Lam was high on adrenaline as his determined dives saw him take a game off the more experienced Tonga's Lauti Naaniumotu. The Tongan shuttler eventually won over three games but was knocked out in the second round by Tahiti's Quentin Bernaix 21-16 21-11.
Oceania's Men's Singles Runner-Up and first seed, Remi Rossi, was relentless in his opening match against New Caledonia's Bryan Nicole as he eased through to a 21-3 21-5 victory.
Following in his footsteps, 17-year-old Louis Beaubois smashed past Northern Marianas' Andreau Galvez 21-4 21-10.
The remaining three seeds all made it through to the Quarter-Finals, with the closest contest coming between Morgan Paitio (third seed) and Tahiti's Tarepa Bourgery 21-15 21-15.
WOMEN'S SINGLES
The only other seeded player to exit on day one of the individual event came in the women's singles. New Caledonian third seed, Melissa Sanmoestanom, was stunned by Tahiti's Coralie Boutin who remained in control throughout her to win victory 21-17 21-13.
The reigning champion from the 2011 Pacific Games, Andra Whiteside is not competing to defend her crown this year. However, the previous bronze medalist, Johanna Kou, is on track to better herself after storming past Malia Ausage-Pepe (Samoa) and Ashley Yee (Fiji) to secure her spot in tomorrow's Quarter-Final.
Meanwhile, the first seed from Fiji, Danielle Whiteside looked startled by her Tongan opposition who pushed the Fijian to her limits. Nevertheless, the experience shone through and Whiteside won 21-9 23-21.
The longest match of the day came in the Women's Singles as Fiji's Alissa Dean and Tahiti's Melissa Mi You went the distance over 53 minutes. Right up until the very last minute, the game was up for the taking, but it was Dean who held her nerve on the second time of asking to win 21-14 18-21 22-20.
MEN'S AND WOMEN'S DOUBLES
Fiji showed their strength in their Men's and Women's Doubles as all of their competing pairs made it through to the Quarter-Finals. Ryan Fong and Burty Molia saw off the threat from Tahitian's Louis Beaubois and Manuarii Ly 21-16 21-19.
Meanwhile, Karyn Gibson and Andra Whiteside extend their unbeaten run throughout the entire Games with a comfortable second round win over Tonga's Mele Lingisiva Kei and Lesieli Vaeno 21-6 21-13.
Tupu Fua was part of the team that brought home the bronze medal for Samoa in the 2007 Pacific Games. The third seeded home icon is competing with Hilton Soo, who together pulled off a scintillating victory over Solomon Island's Brandon Guan and Zi Rong Guan 21-14 21-18.
Kiribati had high hopes in the Women's Doubles as Tinabora Tekeiaki and Teitiria Utimawa finished the Mixed Team event with a near perfect success rate in their Women's Doubles ties. The pair achieved a feat that no other nation's players had achieved, having played in the maximum amount of matches possible in the Mixed Team event.
However, the girls didn't look overly exhausted as they put on a sterling display against Tahiti's Coralie Bouttin and Esther Tau. It was a sweet victory for Tau who had previously lost to the pair in the Mixed Team tie, who exacted revenge 21-19 10-21 21-19 to set up a Quarter-Final clash against the second seeds tomorrow.
All results from day one of the Individual event at the Samoa 2019 Pacific Games are available on Tournament Software.
DAY TWO: QUARTER FINAL AND SEMI FINALS
Play resumed at 10am today with the Quarter-Finals, starting with the Men's Singles.
You can view the draw on Tournament Software and watch the action from court 1 on the Live Stream
This article is published from Badminton Oceania with permission.