Men's Basketball wrap: Guam tops Pool A and host Samoa advance to next round
Reigning champion Guam edged out New Caledonia in the battle for Group A top spot to punch an outright ticket to the Semi-Finals of the 2019 Pacific Games men's basketball Saturday here.
Tai Wesley pumped in 28 points and eight rebounds while Daren Hachonova chipped in 14 markers, five boards, three assists and six steals for Guam which completed a group phase sweep with a 3-0 slate, bolstering its bid for a Pacific Games title retention.
JP Cruz and Willie Stinnet III also added 10 apiece for Guam which opened the game with a 27-16 upper hand and even stretched it to as many as 30 points en route to the dominating win.
Previously, Guam defeated host Samoa (105-81) and Tonga (101-65).
Amidst the loss though, New Caledonia still advanced to the crossover quarterfinals with a 2-1 slate in Group B.
Steevan Sillant and Beniela Adjouhgniope uncorked 16 and 14 markers, respectively, in a losing effort for New Caledonia.
Dru-Leo Leusogi Ape and Theo McFarland paced Samoa's attack with 27 and 23 points, respectively.
Meanwhile, Tonga just could not get over the hump despite the 32 points from Marcus Alipate.
Owing to tough losses against New Caledonia (71-82) and Guam (65-101), winless Tonga thus got eliminated from the Pacific Games with a 0-3 card.
Read more: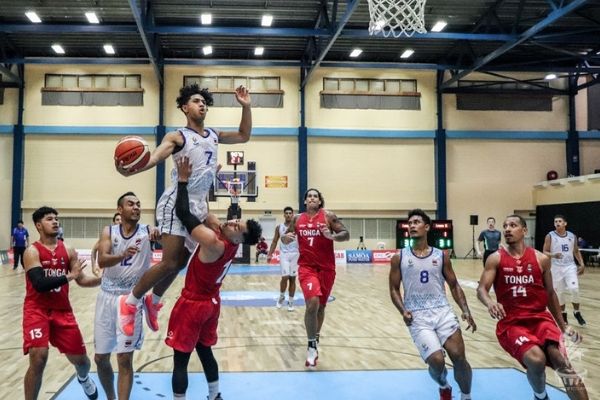 Meanwhile, Host team Samoa booked the last ticket to the quarterfinal bus after eclipsing Tonga, 98-90 at the end of the 2019 Pacific Games men's basketball Group Phase.
Samoa actually started on a wrong foot as it stared a 28-31 deficit after the first frame before regaining its touch in the next two quarters to take a 78-70 lead going into the crucial payoff period.
With momentum on its side, the home team even pounded on Tonga with a quick 12-4 salvo to seize a commanding 90-74 lead midway through the final canto that pretty much iced the crucial win.
After painful losses against Guam (81-105) and New Caledonia (63-75), Samoa ended its group play stint with a 1-2 record but still advanced to the next round, joining New Caledonia to the crossover quarterfinals against Group B.
Due to a 3-0 sweep to top Group A, reigning champion Guam is already through to the Semi-Finals.
This article is published from FIBA with permission.