Guam sweeps Men's Basketball events with 3x3 Gold, Fiji win Women's
Guam 3x3 Men's Basketball denied Fiji an epic double-Gold medal finish after capping off a classic 20-18 overtime escape act to rule the Men's division of the 2019 Pacific Games 3x3 basketball.
Seve Susuico, Andrew Carlos, Ben Borja, and Michael Sakazaki led from the front for Guam which edged out the Marshall Islands in the Semi-Finals, 14-11, to earn the right to face the previously unbeaten Fiji for the historic Pacific Games 3x3 basketball crown.
With the Fiji 3x3 women's basketball team securing the gold medal in the Women's Division, the Fiji men's side was also poised to rule their division especially after fending off host Samoa in the other semi, 18-16.
But Guam came and spoiled the party, denying Fiji a sweep of both divisions on its way to a twin kill of its own, after also ruling the 5-on-5 basketball earlier this week.
Henry Tabuduka, Filimone Waqabaca, Joshua Motufaga and All-Star Five member Marques Whippy poured all they've got into the but just could not get it done, settling for silver.
Read more: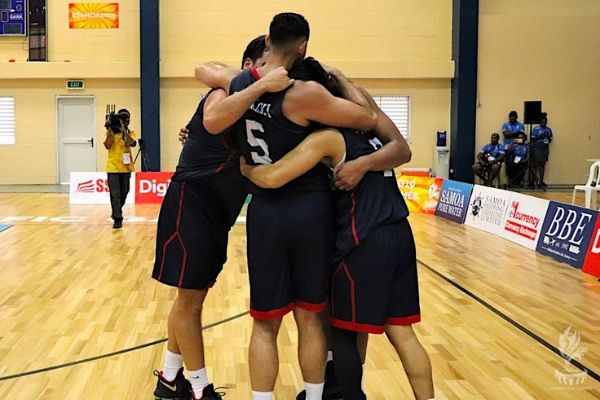 Meanwhile, host Samoa took bronze after a thrilling 19-18 win over the Marshall Islands in the battle for third.
Theo McFarland, Dru-Leo Penisula Leusogi Ape, Ezra Tufuga and Ryan Paia paced the respectable finish of the home team.
The Marshall Islands after a magical run throug the tournament barely missed out on the podium with the efforts of Lani Lanny Ackley, Fredrick L. Kurn, Halber Royden Peter Pinho and Robert William Case.
This article is published from FIBA with permission.