Gold and Silver for PNG in the Women's Triple Jump
Annie Topal of Papua New Guinea battled the weather and her own team mate and mentor to capture gold in the Triple Jump at the Samoa 2019 Pacific Games Athletics meet at Apia Park Stadium.
Defending her Bronze title from the 2015 Pacific Games, she exceeded her own expectations.
"I was aiming for silver or bronze but wasn't expecting gold."
The heavy rains made the conditions difficult for all the athletes, but it was an added challenge for Topal.
"I'm from East New Britain Province. The weather is nothing like this. I've never competed in the rain before, so this was a first."
Support from her coaches and the pressure to adapt to the rainy conditions spurred her on.
"My coaches told me winning was all about confidence. I got support from everyone, but I also knew I had to adapt to the weather. My confidence was high, which helped me."
Read more: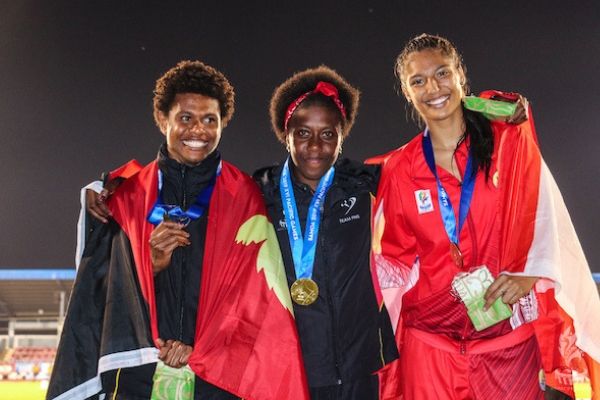 Triple Jump podium - Rellie Kaputin, Annie Topal and Candice Richer (Roland Setu/Pacific Games News)
The 23 year old is based in the US where she is completing her studies and training and the distance has made visiting family difficult.
"I haven't been home for 2 years now, I can't wait to see my family and celebrate my victory with them"
Topal's close friend and teammate, Rellie Kaputin, captured silver for PNG with Candice Richer from French Polynesia completing the podium.
While Kaputin was unable to defend her gold medal from the 2015 Pacific Games, she was happy to share this special moment with Topal, who she affectionately calls her 'niece'.
"Yes, we're very close. It's very special to compete with her especially the triple and the long jump. Being that close makes standing next to her on the podium very special."
Kaputin also felt while the weather was a challenge, it did not dampen her spirits or competitiveness.
"I knew I had to go out and fight against the rain. So today I said to myself 'Just go out and enjoy yourself on the runway.'"
Kaputin has been training hard in preparation for the Olympic Games in 2020. Tomorrow, she will be defending her gold medal long jump title from 2015 and hopes for results good enough to carry her to Tokyo.
As an 'aunty' and role model for her teammates, she had parting words of encouragement for aspiring athletes.
"I would say to those wanting to reach higher to keep chasing their dreams, to never give up, and keep working hard. Nothing will come to you without hard work and dedication."