Football: PNG wins women's, NZ win men's
Papua New Guinea have won gold in the women's football at the Samoa 2019 XVI Pacific Games, repeating their performance from 2015 when they hosted the event.
PNG defeated the host nation Samoa 3-1 at the JS Blatter Football Complex on the final day of the sporting competition.
Fiji won the bronze medal, defeating Cook Islands 3-1.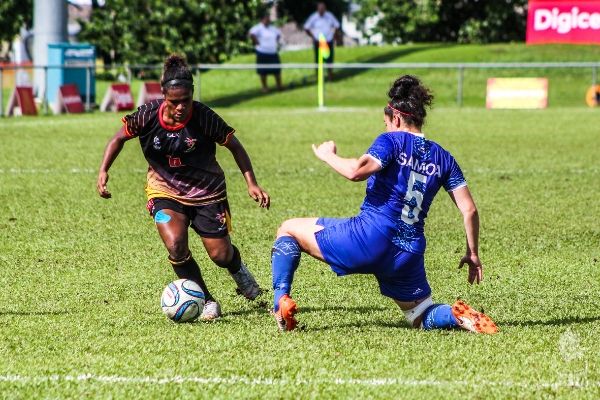 PNG beat Samoa in the gold medal match (Image: Pacific Games News Service)
In the men's competition, New Zealand under 23 team took the gold after beating New Caledonia.
Fiji took bronze, after they beat Papua New Guinea.
Roy Krishna from the Fiji team said: "PNG was a good side to play. We knew it was going to be a tough game but I think the boys stuck to the game plan.
"Even though we were one-nil down, we still had the belief that we could win. We came back strong and the 10 men changed the game. I think we deserved the three points."
He said rain made for slippery conditions, but "that's the nature of sport."
"We just need to perform. Credit goes to the facilities who gave us not one but four pitches. Credit to them as last time I was here for 2007 Games the facilities were different and it's huge improvement."
He added: "Every person we meet on the street were friendly and Samoa welcomed us with open arms so my thanks to the country for their hospitality."