Fiji shocks PNG to claim men's rugby league 9s gold
Fiji won gold in men's rugby league 9s at the Samoa 2019 XVI Pacific Games, beating defending champions and favourites Papua New Guinea 14-0 at Apia Park Stadium on Tuesday evening.
Although PNG sent a less experienced side to these Games than their champion team from the Port Moresby 2015 XV Pacific Games, they were still hopeful of defending their title after strong performances throughout the two-day event.
However Fiji had other ideas and dominated the decider, scoring three tries through Penaia Leveleve, Taniela Tamanivalu and Josua Roko and keeping PNG scoreless. The first half was tightly contested with Fiji leading just 4-0 at the break, but PNG failed to rediscover the attacking form that had lit up Monday's pool matches, and Fiji's defence held strong.
Read more: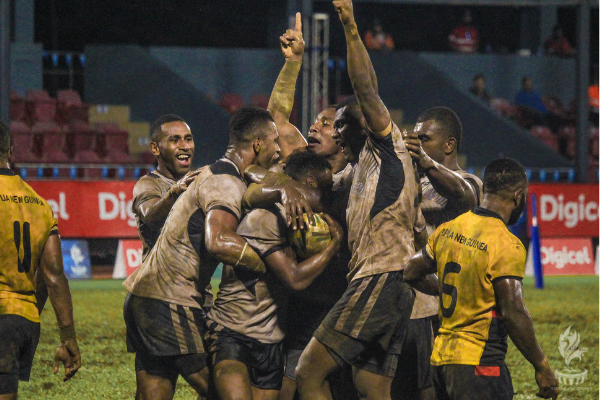 Fiji captain Luke Nadurutalo said his side had to dig deep to make the game safe in the second half. "It was a tough one. The boys were really tired at half time but I kept telling them 'it's not done yet, we have to work really hard to get that gold'. We all know that PNG won last time, but we didn't come just to win silver or bronze, we came with that motive to win the gold and we did it.
"We'd like to thank god for the opportunity. It was a great victory today and it didn't come from us, the victory comes from above."
A disappointed PNG captain Sailas Gahuna said his relatively inexperienced teammates would take a lot out of the Pacific Games journey. "All the boys are new to the game at international level, and to represent our country here is a privilege. We are so proud of ourselves to make it to the gold medal match. The result didn't go our way but big congratulations to my boys. They did their best and it's going to boost their morale when they go home."
In the bronze medal match, Samoa defeated Tonga 16-12 in front of an excited crowd. The hosts raced into a 12-0 half-time lead but Tonga reduced the deficit to 12-6 after the break. Samoan winger Tulolo Tulolo sneaked over in the corner for his second of the game to secure victory, and a late Tongan score wasn't enough, with the final hooter sending the crowd wild.
Samoa captain Paul Chan Tung admitted he was disappointed to come away with bronze. "We have to take what we've got now, but we always wanted to win gold here, especially on home soil. It's a pity we never got to the gold medal match, it's just that we thought too much ahead. We were thinking of the final instead of thinking of what was in front of us. No disrespect to Fiji, but we underestimated them (in the semi-final).
"But I think the team will enjoy this moment. We won't have this again for another four years and, even though we only got bronze, we're going to enjoy it."
The men's medal matches capped an exciting and historic rugby league 9s tournament, featuring the first ever women's event. That was also won by Fiji who defeated PNG in the gold medal match, while Cook Islands beat Samoa to claim bronze.