Fiji and PNG favourites win men's and women's 100m
The fastest man in the Pacific, Fiji's Banuve Tabakaucoro, won gold and beat his own Pacific Games record in the men's 100 metres at the Samoa 2019 XVI Pacific Games on Tuesday night, while Papua New Guinea's Toea Wisil retained her title in the women's 100m.
The men's race took place first and silence befell the crowd as the runners took their marks in preparation for the shortest distance competition. With the stands full of expectation, the starting gun was fired and off they went, with determination and speed like no other. Samoans and Fijians in the crowd erupted in thunderous applause as their picks conquered the competition.
Tabakaucoro sprinted to victory in a record-breaking time of 10.31 seconds, shaving .02 seconds off his previous record for the race. To the delight of a packed Apia Park Stadium, Samoa claimed both silver and bronze through Jeremy Dodson (10.48 seconds) and Kelvin Masoe (10.56 seconds) respectively.
Read more: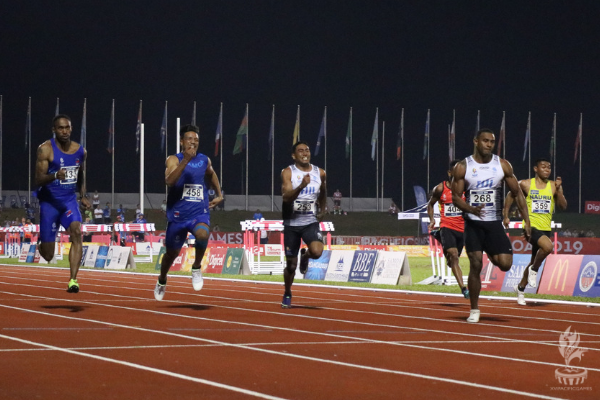 The fastest man in the Pacific, Fiji's Banuve Tabakaucoro, broke his own Pacific Games record as he streaked to gold at Samoa 2019 (Credit: Pacific Games News Service)
On winning gold and beating his own record, Tabakaucoro said: "It feels pretty good, especially being here in Samoa where it is very warm. The competition from my two brothers here (the Samoan silver and bronze medalists) pushed me all the way, especially Jeremy (Dodson). He has been in the game longer than I have and I am just really blessed to have him here. I don't see any difference with him being here or elsewhere. I came here to do my thing. It has been a good time."
Despite creating a proud moment for Samoa, Dodson expressed his disappointment after the race. "I didn't put together a great race and it showed," he told the Pacific Games News Service. "I'm going to give myself a 24-hour period to cool down and then analyse afterwards. But right now, I'm not really satisfied, to be honest."
Asked if he had a message for the people of Samoa, Dodson was torn between regret and gratitude. "Deep down I want to say sorry, I really do apologise. But, outwardly, I want to say thank you for all the support. It has been amazing."
Samoa teammate and bronze medalist Masoe was happier, however. "I feel pretty good with the race," he said.
In the women's 100m, Wisil claimed gold in 11.56 seconds. Fiji's Heleina Young took home silver, finishing in 11.82 seconds, and Wisil's Papua New Guinea teammate, Leonie Beu, took bronze in 11.94 seconds.
Wisil, who also ran a record time of 11.50 seconds in the morning's qualifying heats said: "It feels good to be winning as I have been working for this record for a long time. For this one, to be honest from the beginning it was a rough time, but I've done it." Wisil, who won bronze in the same event at the Samoa 2007 Pacific Games said: "I was 19 then and I came and won a bronze medal. It feels good to come back and win a gold on this track".
Young, who is just 17, was thoughtful in her reflection on the race. When asked what was going through her mind as the starting gun fired, she revealed: "Before I went in, my coach told me that this day would never come again. I knew coming in to the 100m final that it would be really tough. Especially against Toea (Wisil), who is someone of a high calibre. I just thought I would come out here run my race and do my best, and that's what I did, and this is the outcome."
Athletics continues on Wednesday from 2.30pm. Entry is $5 or free for children under 15.