Passion drives Director of Catering
The Director of Catering for the XVI Pacific Games from July 7-20, Masoe Norman Wetzell has a strong connection to sport.
The 54-year-old is a father of 3, with a 9 to 5 job. However, he has raised his hand to spearhead the organisation of catering for the estimated 5000 athletes and officials at the Games Village over two weeks of competition.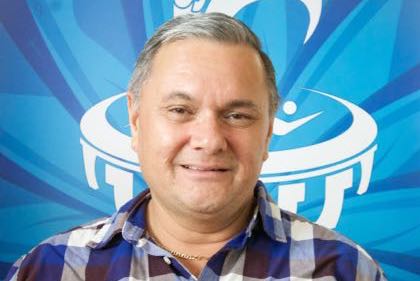 Director of Catering, Masoe Norman Wetzell
It's a key role with nutrition being an important element in high performance sport. Fresh food rich in vitamins, iron and other minerals and hydration are vital for athletes.
A sports lover, a businessman and a member of the Bishopric for Pesega 5th ward, Mr Masoe is no stranger to the sporting bodies in the country and not only in managerial positions.

He's been an athlete and medalist for Samoa in past Pacific, Oceania and Mini Games. He was involved with the Organising Committee for the 1983 South Pacific Games, and 2015 Commonwealth Youth Games as the Chairman of the Catering Sub-Committee.
Mr Masoe knows the value of hard work. He is the current Vice President for Apia Concrete Products Limited. Although it is a family owned business, he started out as a labourer and truck driver.
In the past, he has served on a number of statutory Boards and Committees in Samoa which includes the Central Bank of Samoa (CBS), South Pacific Games Authority and the Samoa Chamber of Commerce to name a few.
He continues to serve on statutory Boards and Committees in the country and that includes the Samoa National Provident Fund, Apia Court House Trust, Samoa Historical Trust and Aggie Grey's Beach Resort among others.
While he's a man who has a lot of commitments, his heart is in sports development in Samoa - and to always give back to his community.
Samoan food facts:
Not heavily spiced and characterized by the use of coconut milk and cream. Staple foods are taro, breadfruit, bananas, coconut, fish and shellfish, chicken and pork.
Samoan Umu, a traditional above the ground stone oven heated by glowing hot lava rocks, is used to cook food.