Designers look to Samoan culture for team uniform
The launch of Team Samoa's uniform featuring the traditional malu tattoo marks a milestone in preparing for the Samoa 2019 XVI Pacific Games.
The apparel was launched on 17 May in Apia, Samoa, by the Samoa Association of Sports and National Olympic Committee (SASNOC).
"For years we have always integrated the concept of male tatau (pe'a) in uniforms and it's about time that we acknowledged women's involvement in the development of sports in Samoa," said Falefata Hele Matatia, CEO of the Pacific Games Office.
Michael Peters, Pacific Games Office graphic designer, worked with fellow graphic designer Ben Bowles, to draft numerous samples over several months.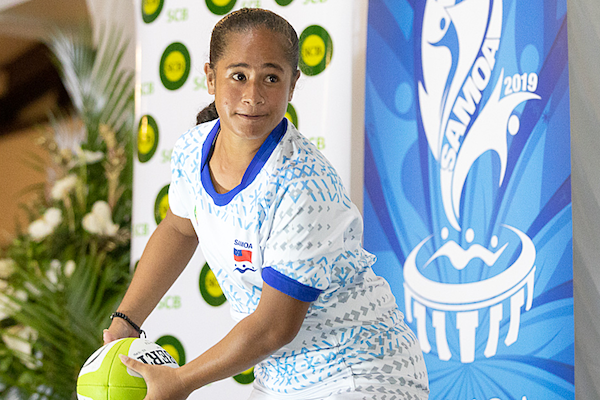 Photo: Samoan athletes in the team uniform at the launch.
They then narrowed down the designs to focus on the concept of female empowerment through the integration of culture and sports.
Malu means sheltered or protected in Samoan; the meaning of malu also portrays the role of the mothers or females in the Samoan family.
"Traditional Samoan designs inspired me, and the bright colours found in the Samoan environment was another big inspiration as well," said Michael.
"The malu pattern on the uniform is the exact pattern you find on traditional female tattoo on the upper leg. It represents strength, agility and speed - which all link to sport - and life in general.
"It's a contemporary take on a classic pattern. Each design is unique to every single sport and the pattern is applied using classic sportswear design."
Ben added: "It is nice to do something fresh. Because pattern and colour are such an important part of Samoan culture, it was exciting to incorporate them."
Mike and Ben are New Zealand volunteers on assignment with Volunteer Service Abroad. Their seven-month assignment with the Pacific Games Office is to share their knowledge with Samoans.
"Samoa is a beautiful country. When I heard about the project, I wanted to join the team and apply all my knowledge to something worthwhile. The majority of the people here are volunteering and everyone has each other's back which is rare in an office," Michael said.
"I feel honoured that I've been given the opportunity to take part in creating the uniform."
For them to design the uniform for Team Samoa took a lot of thought and hard work.
"It was a great way to learn more about the culture. Michael came up with the particular design and had carried it through. I am really happy to be a part of what he has produced and be part of the process," Ben said.