Day 6 at the Basketball and all on the line in Men's and Women's
In the last day of the Pacific Games Women's Basketball Event's Group Phase, four teams will be battling for positions to determine the cast for the Qualifying Finals.
Guam and Tahiti are sporting identical 1-1 win-loss cards and will face-off at the curtain-raiser at 12:00 pm.
The LeFranc sisters are leading the charge for Tahiti with both players averaging double-double figures, Alizee (17.0 ppg, 12.5 rpg) and Oceane (12.5 ppg, 13.5 rpg).
Guam's attack is spearheaded by Destiny Castro (17.5 ppg) with Mia San Nicolas providing able support inside (15.5 ppg, 7.0 rpg).
Both teams are the respective titlists in their regional qualifiers with Tahiti as the reigning FIBA Polynesia Cup champion while Guam was the Gold Medalists in the 2018 Micronesia Games.
Meanwhile, American Samoa will take on winless Papua New Guinea and will go for the sweep of Pool B at the 4:30 scheduled game.
The American Samoans have been the class of the Pool with an 85-76 and 85-61 wins over Guam and Tahiti respectively.
Sarah Toeaina has been the most impressive player for the 2015 Silver Medalists with 22.5 points and 8.5 rebounds per game averages while Malia Nawahine is providing the needed assistance with 17.5 and 6.0 rebounds.
For the FIBA Melanesian Cup Champion Rosa Kairi and Polynesia Cup All-Star Five Betty Angula are holding the fort for PNG with 11.5 and 10.5 points per game respectively.
The Pacific Games is also serving as the official qualifier to the FIBA Women's Asia Cup.
Read more: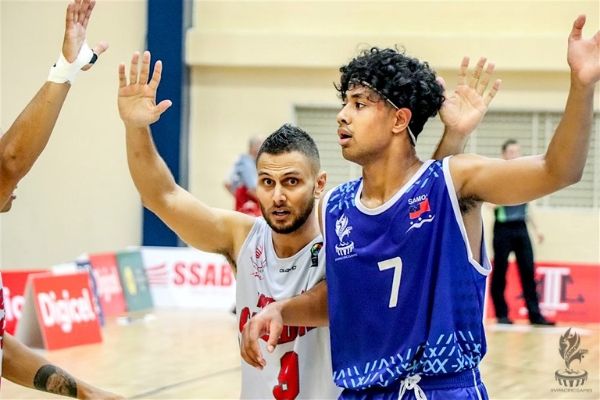 The Group Phase of the Men's basketball tournament in the ongoing Pacific Games will conclude in Day 6 of the competition.
Unbeaten teams Guam (2-0) and New Caledonia (2-0) will dispute the top spot in Pool A action including the outright Semi-Final ticket.
Reigning champion Guam has been good as advertised with their dominant wins over Samoa (105-81) and Tonga (101-65) while New Caledonia also turned back both pool mates Tonga (82-71), Samoa (76-63).
Guam's JP Cruz has been shooting the lights out, averaging 19.5 points per game in just 18.5 minutes per game while young stud Takumi Simon exploded for 30 points in their win against Tonga.
New Caledonia will look to Beniela Adjouhgniope (18.5 ppg, 8.0 rpg) and Rodrigue Tetainanuari (14.5 ppg, 7.5 rpg) to lead them in their match against the pre-season favorites.
Guam vs New Caledonia is scheduled at 2:15 pm (Samoa time).
Meanwhile, host Samoa and Tonga will face-off to determine the last participant for the Qualifying Final from Pool A.
Tonga's Marcus Alipate is averaging a tournament best, 35.0 ppg and will get able support from Vilia Foketi with 14 points and 9.0 rebounds average but will need help to overcome a home team that is boosted by a huge crowd support.
But Samoa will also have an explosive guard in their arsenal with the 17-year old sensation Dru-Leo Leusogi Ape averaging 23.5 points per game to lead his team.
Can Samoa reward their fans a win at home or will Tonga shut the door and keep the host winless?
Samoa vs Tonga is scheduled at 6:45 pm (Samoa time).