Day 3 Basketball: PNG overwhelm Tahiti; Fiji routs Solomon Islands
Papua New Guinea stifled Tahiti, 93-51, to remain unbeaten in two games in the ongoing 2019 Pacific Games Men's Basketball.
PNG thus solidified hold of the top spot in Group B after also taking a huge 84-46 opening day win over the Solomon Islands earlier this week.
Brothers Liam and Lloyd Wright teamed up in PNG's big win with a combined effort of 35 points.
Liam had 21 to go along 12 rebounds and four steals while Lloyd posted 14 markers and three boards.
Aron Farmer and Moses Apiko also added 11 and 10 markers, respectively, while Coni Muri and Marty Leahy also chipped in nine each.
Eager to improve its fourth-place finish last Pacific Games, the unbeaten PNG just proved to be better than Tahiti in almost all departments, taking big advantages in rebounding (47-15), inside points (42-10), bench points (45-23) and points off turnovers (37-14) due to Tahiti's 32 turnovers.
PNG also shot 49-percent from the field compared to a meager 28-percent clip of Tahiti.
For Tahiti, Ariirimarau Meuel, meanwhile, racked up 10 points, three rebounds and two assists in yet another losing cause.
Tahiti fell to 0-2 in Group after also absorbing a 66-80 loss to Fiji the other day.
Meanwhile, Fiji copped its second straight win at the expense of the Solomon Islands, 74-44.
Read more: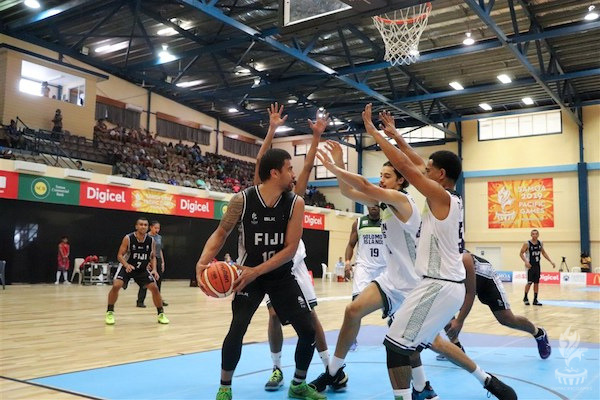 Buoyed by an 80-66 win over Tahiti the other day, the Fijians just would not be denied in their second match after pounding the Solomon Islands in the first two quarters alone with a quick 31-point advantage, 47-16.
A Silver Medalist in the last edition of the quadrennial sports joust in the Pacific, favorite Fiji even widened the gap to as many as 37 points on its way to another dominating win.
Mataika Koyamainavure tallied 15 points and five rebounds to pace Fiji which joined Papua New Guinea on top of Group B with identical 2-0 cards.
Also providing solid numbers for Fiji were Joshua Fox with 12 points, 17 rebounds, and two steals together with Marques Whippy with 12 markers, 14 boards, and six assists.
Fiji was coming off a productive stint in the 2021 FIBA Asia Cup Pre-Qualifiers that served as a huge build-up for this ongoing Pacific Games campaign, thus the result of a dominating run so far highlighted by 66-42 rebounding upper hand over the Solomon Islands including a 28-9 gap on the offensive glass.
Fiji also limited the Solomon Islands to a 26-percent field goal clip which was also marred by 25 turnovers.
Meanwhile, Timmy Magi put up 12 points and eight rebounds for Solomon Islands which slid to 0-2 in Group B following a 48-86 loss to Papua New Guinea in the opener.
This article is published from FIBA with permission.