Cook Islands and Tonga win as netball pool matches finish
The Cook Islands held onto a slight lead to beat Samoa as the last of the netball pool matches at Samoa 2019 XVI Pacific Games were held.
Cook Island took an early lead with superior mid-court defense. Goal shoot Alana Smith worked her goal circle accurately, helping her team take an early lead of 17-13.
Samoa offence worked hard to push the ball to their goal, but the Cook Island defence of Anania Piri and Eri Te Ana Short were on fire.
When the ball did get there Samoan Alyssa Niko Tuifao made the most of it and goaled. The home crowd debated every decision from the sidelines but at half time Cook Island lead 33:25.
Read more: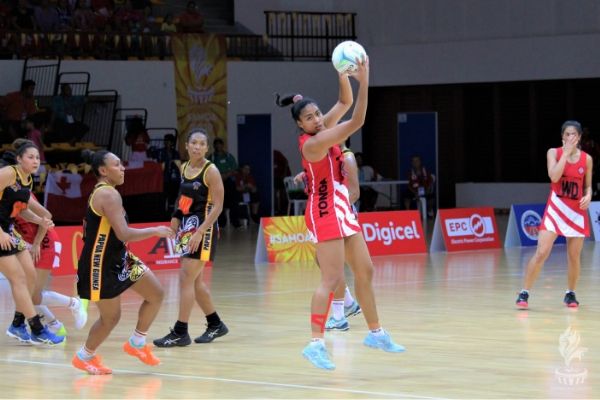 Tonga and Papua New Guinea fought a tight battle. (Image: Therese Rivers/Pacific Games News Service)
Cortney Brown came in as goal keeper in the third quarter for Samoa and worked hard to tighten up the defense against Smith. However, Cook Islands held their lead at the end of the third quarter 47-39.
Samoa goalies swapped in the last quarter, giving a Niko Tuifua a run.
Captain A J Savelio shot accurately to get the gap as low as 6 points, but Samoa never recovered from the second quarter when Cook Island took a comprehensive lead to finish 59-53.
Tonga beat Papua New Guinea 52-42 in a tightly contested contest which had the crowd energised. Scores were even at 16-16 when PNG centre Nerita Adula left the court through injury.
Tonga quickly added three goals as PNG regrouped. Both teams came out fighting in the third quarter as the crowd spurred them on.
Tonga played an open court long passing game but PNG was sticking to shorter passes through the mid court. Tonga continued to lob to goal shooter Uneeq Palavi and it worked.
They lead 40-29 at three-quarter time, and PNG fought hard to reduce the gap in the last quarter to the delight of the crowd, but to no avail.
In the other two matches, Tokelau beat Norfolk Island 64-17 for their first win on the competition. Both teams had strong crowd support giving advice from the sidelines.
The difference in the first quarter was all in the whole court defence. Tokelau wing attack Melehina Kilino-Lapana was a key element in pushing the ball into her offence.
However, Norfolk Island slowed the scoring rate to 24:10 at half time. Norfolk Island tried a new defense lineup in the third quarter to no avail. Tokelau defence was performing well - Merida Wolfgramm at goal keeper made some spectacular interceptions.
Tokelau coach Rawinia Reweti said afterwards: "It was important we won today. We came to the Pacific Games in 2007 but not since then. Two players from Tokelau came to live and go to university in Wellington, New Zealand. They get little exposure to netball so it is good they are sponsored to get exposure to netball and life in New Zealand. They go back home after this."
Solomon Islands coach Miriam Poloso was pleased with her team's 74-27 win over American Samoa.
"I am really happy with my girls today. They are a young team - 16-28 years old. We have four senior players but the rest of the girls are new to Pacific Games."
Solomon Island quickly took the lead using their youth, speed and agility to chase the loose balls. Solomon Island goal defense Roina Oke added to American Samoa's woes by regularly reading play and intercepting balls meant for American Samoa's offence.
In the second quarter, the umpires repeatedly stopped play due to basic errors from both teams. American Samoa changed their defence, bringing on their coach and most experienced player Malia Perelini to goal keeper, but a spate of quick goals saw Solomon Islands lead through to the end.
Thursday's semi finals start at 1pm at the Multii-sport Centre, Faleata Sports Complex.