Boxing event on Savai'i tested venue and logistics for July
Boxers in Samoa are putting their gloves on warming up for the Samoa 2019 Pacific Games.
The Last Man Standing International Boxing Tournament was a test event organised by the Marist Boxing Association, from 28 to 30 March in preparation for the Pacific Games.
All the action was livestreamed - powered by Digicel and brought to you in partnership with TV3 Samoa and Talamua Media.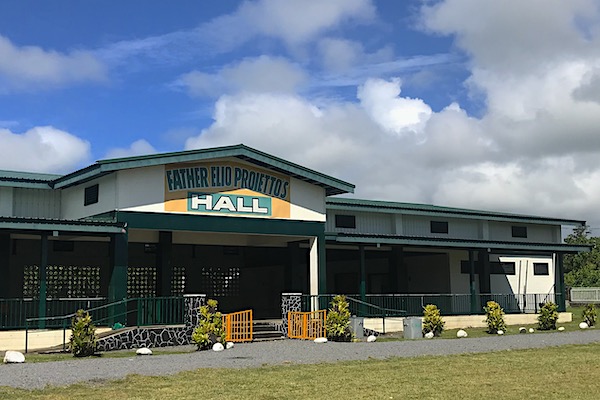 To ensure this event was a success the Samoa Boxing Federation (SBF) worked closely with the Amateur International Boxing Association (AIBA).
The tournament was at Don Bosco College in Salelologa, the same venue that will host the sport of boxing during the Pacific Games from 16 - 19 July.
Read more
Tofilau Faafouina Milford, Sports Competition Manager for Boxing at the Pacific Games and the Vice-President of the Samoa Boxing Federation says "we needed to test the venue and know what should be done during the Games."
He highlighted the importance of the test event for the Federation and boxers competing in the Games.
"This event tested equipment, accommodation, transportation and everything to do with the Games," Tofilau adds. "Every sport won't get it right on the first go. As we get ready for the Games, this is a trial to know what to do in July including the athletes preparations and familiarising themselves to the area."
Test events for a variety of sports are part of the build-up for the main event in 2019, the XVI Pacific Games.
"There is still time and room for improvement before the Games and we will learn from everything that happens during this tournament," he continues.
"What we're doing is looking at practicality and process for the Games. We've been looking at all aspects to better our performance - and practice makes perfect."
Teams and officials travelled to Savai'i on Samoa Shipping Corporation ferries from Mulifanua. They will provide the same service for the Pacific Games.
Test Event programme:
Wednesday 27 March
8.30am: Team's Parade from Frankie's Supermarket to SSAB beside ANZ Bank
Welcoming Ceremony and Official Opening


Thursday 28 March
7 - 8am: Weigh in at Jet Over Hotel
12pm - 3pm: Session 1
6 - 8pm: Session 2


Friday 29 March
7 - 8am: Weigh in at Jet Over Hotel
12pm - 3pm: Session 1
6 - 8pm: Session 2


Saturday 30 March – FINALS
7 - 8am: Weigh in at Jet Over Hotel
10am: Weigh in Corporate Boxers – SSAB
12pm - 3pm: Session 1, Bronze Medal Bouts
6 - 9pm: Session 2, Silver and Gold Medal Bouts and Corporate Bouts