Basketball day 5: Fiji seals Semi-Final ticket; Tahiti advance to the next round
Fiji prevailed over Papua New Guinea, 78-58, in a battle of unbeaten squads to own the top spot of Group B in Day 5 of the 2019 Pacific Games men's basketball.
Up by just four points, 34-30, at the half, Fiji ran away with a 25-point explosion in the third frame to take a commanding 59-43 gap entering the payoff period.
That separation was the one Fiji was waiting all-game long as it proved to be sufficient in holding off fierce rival Papua New Guinea.
It was a fitting vengeance for Fiji following its loss to PNG in the Melanesia Cup championship before the Pacific Games.
More than the top spot and the revenge on PNG, the Fijians just booked a ticket to the Semi-Finals of this prestigious quadrennial basketball joust, putting themselves in a position to cap off an unfinished business after a Silver Medal in the 2015 edition.
Fiji also defeated Tahiti, 80-66, and the Solomon Islands, 74-44, earlier this week.
Fiji leaned on a well-balanced attack as six players scored in double figures led by Marques Whippy with 16 points and 14 rebounds.
Mataika Koayamainavure, Leonard Whippy, and Joshua Motufaga added 15, 13 and 12 markers, respectively while Joshua Fox and Filimone Waqabaca had 11 each for Fiji which led by as many as 22 points.
Brothers Liam and Lloyd Wright were reduced to a two-man army in PNG's loss as ace gunner Aron Farmer bled for seven points.
PNG settled for the second spot in Group B with a 2-1 record.
Read more: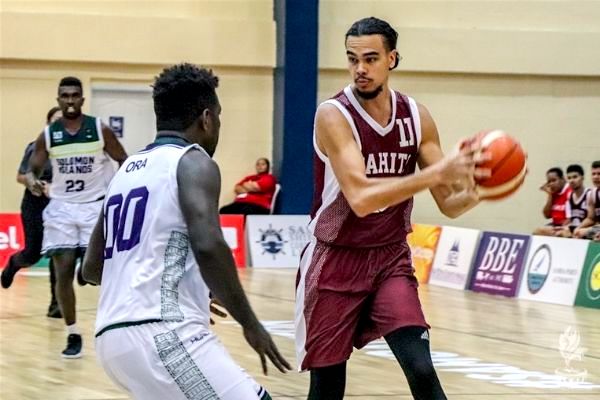 Meanwhile, Tahiti trounced the Solomon Islands, 89-32, to advance in the next stage of the tournament.
Buoyed by tough losses against Fiji (66-80) and Papua New Guinea (51-93), Tahiti vented its ire to Solomon Islands with a suffocating 44-11 halftime start.
Tahiti's suffocating defense limited the Solomon Islands to the lowest score at the half so far this tournament on its way to a commanding 52-point victory.
This dominating stand on the defensive side was highlighted by Solomon Islands' 22-percent shooting clip and 28 turnovers which Tahiti converted to 32 points off turnovers.
Tahiti, the Polynesia Cup champion, thus improved to 1-2 in Group B to join Papua New Guinea and Fiji to the next round of this prestigious quadrennial sports showpiece.
Ariirimarau Meuel paced Tahiti with 18 points and four rebounds in just 20 minutes of play.
Raimoana Tinirauarii, Heimoana Teamotuaitau, and Michel Audoin contributed 16, 13 and 10 markers, respectively for a well-scattered Tahiti attack.
Alex Masaea and Matthew Boardman scored nine apiece for the Solomon Islands.
Following its 48-86 loss to Papua New Guinea and its 44-74 defeat to Fiji, Solomon Islands slid to 0-3 on its way to an unfortunate exit from the Pacific Games.
This article is published from FIBA with permission.