Apia city clean-ups planned before Games
Events to clean up the streets, waterfront and rivers around Apia will be held from 25 May in a bid to prevent more litter entering the ocean.
Marine litter is a global issue that negatively impacts the environment, people and coastal economies around the world.
In Samoa it is estimated that in 2017 around 9,000 tons of plastic is generated each year. This equates to roughly 3.5 large garbage truck-loads of plastics collected every day. If not managed correctly it could end up in the oceans.
As part of the Greening of the Games initiative for the Samoa 2019 XVI Pacific Games, the Government of Samoa through the Pacific Games Office and partners (Secretariat of the Pacific Regional Environment Programme, Ministry of Natural Resources and Environment, and the Samoa Tourism Authority), are organising the first of three, citywide clean-up events.
Read more: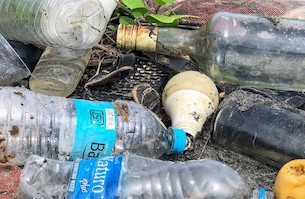 Photo: Rubbish will be sorted and compared with previous clean-ups in Apia.
Clean-ups along Apia waterfront and business corridor as well as Vaisigano, Fuluasou, Gasegase and Loimata o Apaula rivers will be held.
Community and church groups, schools, sports federations, businesses, and all members of the public are encouraged to get involved. Details will be available closer to 25 May.
The initiative's slogan is "Beautiful Samoa: Keep it clean and plastic free" and organisers hope to raise awareness about the issues of waste disposal into rivers, marine debris and single-use plastic. The Games, being held 7-20 July, will be single-use plastic-free.
Collected rubbish will be sorted and compared to data from three previous city clean-ups to understand more about the marine debris in Apia's waterways – waste that eventually finds its way onto beaches and ultimately into the ocean.
After the clean-up there will be a complimentary BBQ luncheon at Malaefatu Park where volunteers can take a break, eat, drink and celebrate their accomplishments.
It will be hosted by SPREP and MNRE. Music, games and environmental awareness activities will be available, including demonstrations on ways to practice refuse, reduce, reuse, and recycle.
Government agencies, businesses and communities are welcomed to be part of this event, and to confirm their interest or support by contacting MNRE: [email protected] or SPREP: [email protected]