American Samoa's 65-year-old Pacific Games netballer still playing hard
American Samoa's netball team has taken a thrashing at Samoa 2019 XVI Pacific Games, but the joy of playing hasn't dimmed for their 65-year-old player.
The team has suffered on the court, losing to Papua New Guinea 116-10, and Tonga 142-11. Many of their players only started playing netball in May.
But not goal keeper Malia Perelini, president of netball in American Samoa. She's played at least a quarter of each pool match, stepping in to fill gaps left when players pulled out of the Apia competition before it started.
The mother of three and grandmother of nine, Perelini also signed up young relatives to fill the positions left empty.
Read more: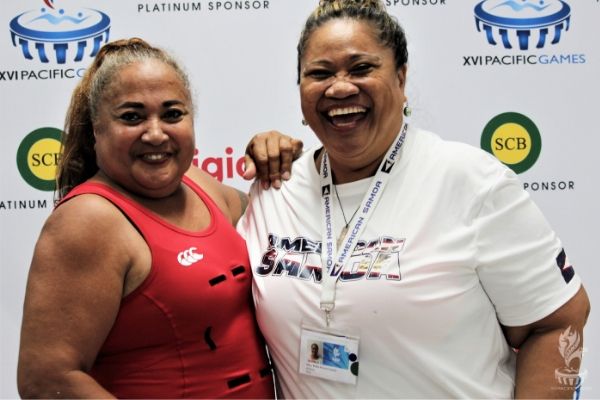 Malia Perelini and Rexie Esera-Ah-Sue are both passionate about netball. (Image: Therese Rivers/Pacific Games News Service)
Her niece Agnes Chan Sau and great nieces Yentl and Colleen Chan Sau, who turned 14 last week, are in the squad.
Perelini would pick them up at 4.30am five times a week to train, and they only started playing in May.
"I told Colleen she could be in the squad but wouldn't get a game," Perelini says. But that all changed when players pulled out of the squad at the last minute, allowing Colleen to play all week.
It's been a long road for Perelini to get to the Pacific Games. She initiated netball in American Samoa in 1986, then reintroduced it again twice: in 2006 and 2016.
Of the early club days, she says: "It was mostly wives of ex-pats. It was a multicultural club comprising New Zealanders, Tongans and Samoans."
When she moved to New Zealand in 2001, the club folded. Only when she returned five years later did it start up again. "Everyone waits for one or two people to get it going," says the retired English teacher.
The club folded again, but in 2016 the idea of participating in Samoa 2019 was enough to spark interest. Fast forward to 2019. There have been many hurdles in getting a team here.
The American Samoa netball technical adviser at the Games, Rexie Esera-Ah-Sue, is an old friend of Perelini's.
Rexie Esera-Ah-Sue is as passionate about the sport as Perelini. "Seeing the growth of the young ones makes it all worthwhile. That's the reward.
"In three days you see the growth. After unwarranted negative Facebook comments [about the losses] we had to explain they are ambassadors for American Samoa and that they should be proud. They woke up to that negativity. We used it to push them to do better."